Success Stories
Concordia Welfare & Education Foundation‐Thailand
Concordia Light Hostel Center, Mae Suai District, Chiang Rai
      Ms. Atitaya Pukumgaew was born in 2000 (13 Years Old). She is from the Lahu tribe. Her mother is a hired worker cultivating crops and her father died. She is in danger of being lured into the sex trade; her mother is mobile to sell her labor in another province so she stays with relative. Her family is quite poor and starts to use her to involve in drugs carry. Her mother asks Mr.Parn to help her daughter since she can not be home to care for her.
      Now she studies at Grade 4, work and study hard to make it possible for her to keep up her study. When she first came, she is more quiet and afraid to say thing out. Now she is more smiles and enjoy the friendship with friends at the hostel and school. Daily she involved cooking, cleaning and care for other. These Light Hostel's family is become her home. She wrote to us regularly to share about her study and life. CWEFT and Light Hostel Center intention to make a different in their life and be able to prevention children from child labor and prostitution through this center.
    For more details of this story, please see in Charity Review of Concodia Welfare & Education Foundation
Thai Family Link Association and Foundation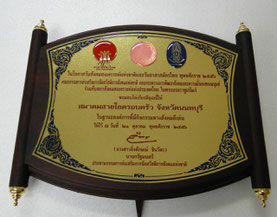 Thai Family Link Association received the National Award Year 2013
October 21, 2013 - Thai Family Link Association received the National Award Year 2013 for an organization with outstanding social activities in National day of Social Welfare and Thai Volunteer ceremony event held by Ministry of Social Development and Human Security at Impac National Exhibition Center, Muang Thong Thani. The award was presented by the Prime Minister.
The Foundation for Better Life of Children "FBLC"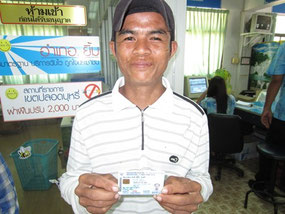 He had to wait for more than 20 years to be the right as Thai people
7-year-old, K.Green (assumed name) never forgets that the teacher from (FBLC Foundation) had helped him from the Street Children. He was sold to the factory paper cone and not seen his parent since then. All Children in factories were working like slaves. One day he was hit on his head by the owner. He was admitted to the hospital. Polices arrested the owner of the factory and children had been rescued from the factory. The children dispersed to their home. But K.Green did not remember the way home. He stayed as the street children at the Memorial Bridge. 
Until the Teachers (K.Nong, K.Tee: former teachers) met him and invited him to stay at the Foundation for the Better Life of Children for about two years. Later, a Phila nthropist wanted parenting him when he was about nine year olds. But he lost the rights, such as education, ID card, medical care. The Registration Officials of Phichit province had informed Green and his curator to follow the evidence about birth certificate of K.Green.
Year 2552, the government has surveyed by Strategic Someone Roots. K.Bum (Street Teacher) has sent documents which certified by the Foundation to ensure that actually K.Green is well behaved at all times. And the sheriff approves to add his name on registration and ID Card for him. Present K.Green is a fully become Thai citizen already. K.Green and his curator had to wait for more than 20 years for the right as Thai people of K.Green.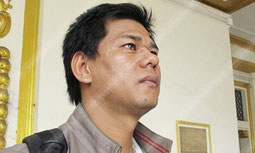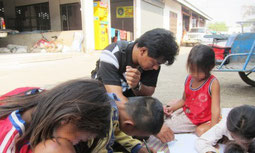 "Master Pong" from disadvantaged children to be the teacher for street children of the Foundation for Better Life of Children
'Thanarat Tara Korn' or Master Pong - Project Staff, or teacher on the street of The Foundation for Better Life of Children. Currently, the responsibility for the homelessness and housing resources at Hua Lamphong Raiway Station (a lot of the disadvantaged children in Bangkok).
Talks about the past, he was the son of a construction worker. He disadvantaged, no opportunity to attend school and living in a shed workers. And then the projects Construction Workers' Children were raising the first generation of the Foundation for Better Life of Children. He had the opportunity to study and served assistant teachers, to find and rescue the children until he graduated the Bachelor Degree.
He lives at the foundation and seen the children since then, he needs to do anything in return Foundation. He starts as a teacher immediately without a job elsewhere. Although he can apply the job elsewhere.
Education For Development Foundation "EDF"
Ms Tueanchai Pensawat
one of the 1st-Year scholarship students of EDF in Udon Thani Province (1988-1990).
After graduated, Tueanchai becomes a school teacher at Ban Na Mang School in Sang Khom District, Udon Thani Province
"If I hadn't been offered scholarship from EDF, I would have been out there ending up as a labourer at a construction site or factory
worker. I work as a teacher because of EDF who gave me a chance to study. It changes a poor girl to a school teacher… to the one
that can educate the other poor children in remote schools so they're able to get a job and live in the place they were born."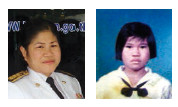 Ms Sunawan Bunnam
one of the 3rd-Year scholarship students of EDF in Khon Kaen Province (1990-1992).
Sunawan has a Master's Degree and is currently Head of Education, Religion, and Culture
Section at a Tambon Administration Office in Kalasin Province.
"I feel very honoured to be able to get back and help EDF to give support to the other
students who lack opportunity. EDF gave me a chance to study and opened my views to the
importance of education. If I hadn't got helped that day I would have found it impossible to
undertake secondary or higher education or would have completed only primary education
and ended up the day-to-day life the way it is."
Operation Smile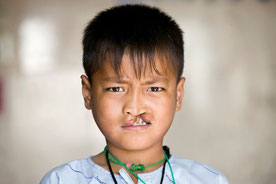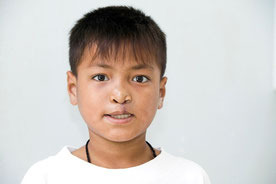 Tran Tu Lin
The youngest of four children, Tran Tu Lin is only nine years old but has already experienced rejection beyond what most people endure in their entire lives. In addition to being a refugee from Burma, Tran was born with a cleft lip. A member of an ethnic group, the Pow Karen, Tran lives in a refugee camp called Nupoe near the town of Umphang in the province of TNK in Thailand. His mother is a farmhand who harvests crops. His father was trampled to death by an elephant six years ago. Elephants ran through the camp and he couldn't get out of the way while getting his family to safety.

After learning of an upcoming Operation Smile medical mission to Mae Sot though the East Medical International organization, Tran travelled 6 hours in the bed of a compact pick-up truck that had a canvas cover and bench seats for the opportunity to have his cleft lip repaired. After receiving surgery to give him a new smile, Tran now has the same opportunities as other children to make friends and live a healthy, happy life.


Read more Smile Stories > http://www.operationsmile.or.th/smilestories/patients/
SET Foundation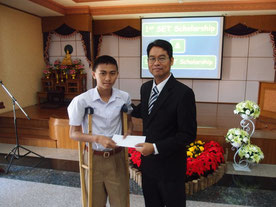 Dr Seckson Sukkhassena

In December The SET Foundation celebrated a special event – the awarding of its 5000th scholarship.
Nuttawut, student 5000, was presented with his scholarship by SET's very first student from 20 years ago, Seckson Sukkhassena. When SET first met Seckson he had just finished high school and had gained a university place but couldn't afford the fees. SET was created all those years ago to send him to university. Now 38 and with a PhD, Dr Seckson is Director of the Institute of Fundamental Studies at a leading university.
At the presentation ceremony, Seckson said he was proud of being SET's first student and of helping to start something which had since given such great opportunities to so many other youngsters; youngsters who, like him, had little chance of achieving anything in their lives without support.
13-year-old Nuttawut studies at Nakhon Sawan High School. He was carefully chosen for the scholarship not only because of his family circumstances but also on an assessment of what he might achieve. He's only in his first year so that wasn't easy, but for the milestone scholarship SET wanted a student who showed enough promise to go all the way in his studies.
The SET Foundation is currently awarding 1,400 scholarships at schools, vocational colleges and universities.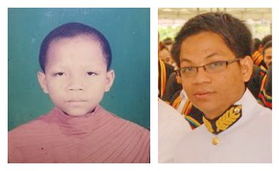 From 'buffalo boy' to PhD
It's taken nearly 15 years, but SET has been with him every step of the way.
SET student Phisarn Khrusang, now 35, was one of the novices featured in the 2001 book 'Little Angels', about the lives of Thai novice monks. In the book he wrote:
"When I was about ten years old, the only thing I wanted to be was a buffalo boy for the rest of my life. I thought there could be nothing better than that. I was happy working in the rice fields and I thought that would be my life."
At the time 'Little Angels' appeared, Phisarn had just finished studying at a monastic high school but was very unsure about his future. After he disrobed he planned to return to his village but SET suggested he study for a Bachelor degree in Public Administration. Since then there's been no holding him back.  He went on to gain a Masters in Political Science and finally a PhD. He completed his doctorate in January 2015 and is now aiming for the honorary title 'Associate Professor'.
Phisarn said: "For nearly 15 years, I've had constant support and mentoring from SET. Without that, I might not have achieved anything worthwhile in my life at all and could still be an uneducated buffalo boy in my village. I am so grateful to SET and its supporters worldwide. Thank you all. I will never forget your kindness".