Who We Are - Giving Back Association is a not-for-profit organization, registered as NGO number 5374/2557 on December 22, 2014 in Thailand, with the purpose of supporting charities in Thailand and the Region.  We help individual and corporate donors to find information on charities and foundations in the Greater Mekong region that most fit their philanthropic goals as well as information on their governance, financial efficiency and transparency.

   We aim to bring together in one location, information regarding all of the charities and non-profit groups that are non-political and not solely for religious purposes, that operate in Thailand, Myanmar, Laos and Cambodia. We aim to make it easy for you to find useful information on charities or non-profit groups that you would like to support.  The more information available to the public on the charities, the more confident and informed donors can be in supporting them,  increasing the overall support for well-run charities and non-profits.
      As a donor may not be sure of how efficient and effective charities are in using the donated funds, we conduct charity visits to see their operations and discuss the details of their governance and financial efficiency with the management of the charities. We then publish detailed reviews and rate them on a 1-5 star basis.
  We encourage all corporations and individuals to give back to their communities.   There are a large number of charities and non profit groups in the community which perform outstanding social work.   The persons managing these charities do so out of their own social commitment and often with no or little financial reward.   Their reward is in their heart, which is the reward of helping others less fortunate than ourselves. They need our help. 
We hope you will find our website useful and informative.  



Charitable people 'tend to be happier'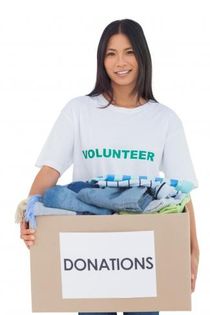 Giving to charity makes us happier; especially when we freely choose to give. Whether we have a little or lot of money, how we choose to spend it matters most to our happiness. The same is true with our time. Volunteering at a charity will do wonders for your emotional well-being. If your aim in life is for you and others to be happy, evidence suggests learning and teaching others to be deliberate in giving of their time and means to charity will have the greatest impact in this noble pursuit.
https://www.usu.edu/science/discovery/fall-2017-stories/does-giving-make-you-happy
SMU Behavioural Sciences Institute Director Professor David Chan was the consultant for the national survey on giving and subjective well-being conducted by the National Volunteerism and Philanthropy Centre. The study found a strong link between giving and subjective well-being. People who give, through either volunteering or donating, are more likely to be satisfied and happy with their lives compared to those who do not give. This is true even after controlling for income status. Professor Chan noted that the findings in Singapore are consistent with those found in research elsewhere and he explained how giving and subjective well-being can influence each other and lead to positive spirals for recipients, givers and society as a whole.
The Straits Times, p B2
TODAY, p 22
Lianhe Zaobao, p 11
Yahoo! Singapore
Source:
Lianhe Zaobao, The Straits Times, TODAY, Yahoo! News
http://www.smu.edu.sg/news/2013/09/30/charitable-people-tend-be-happier
Charitable Giving Increasing Over Time
https://www.cafonline.org/about-us/publications/2021-publications/caf-world-giving-index-2021
The World Giving Index - published by the Charities Aid foundation - used Gallup surveys of 195,000 people in 153 nations, and asked people whether they had given money to charity or volunteered or helped a stranger in the last month. It also asked respondents to rank how happy they are with life.
The results gave an indication of a "global Big society" with a fifth of the world's population had volunteered, almost a third of the world's population had given money to charity, and 45% of the world's population had been "good samaritans" and helped a stranger.