Education For Development Foundation 
Good Governance & Transparency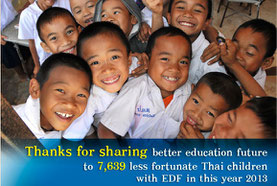 The Education For Development Foundation "EDF"
EDF's mission is to create a better future for underprivileged children through education support. EDF focuses its activities primarily on providing education scholarships for poor children in the Greater Mekong Subregion, encompassing Thailand, Myanmar, Vietnam, Cambodia and Laos.  EDF Thailand has affiliate organisations in Japan, and the countries in the Greater Mekong Subregion to support EDF activities in the region.
EDF works with local government organisations to recommend and screen students applying for scholarships.
In 2012, EDF won "NGO of the Year" (large category) in "Thailand NGO Awards 2012" organized by The Rockefeller Foundation, the Resource Alliance and Kenan Institute Asia for its best practices in Resource Mobilisation, Accountability, Transparency and Sustainability.
Review of Education For Development Foundation
We visited The Education for Development Foundation (EDF) in August, 2013 and
reviewed the foundation with :
Khun Charuwat Boossamalee ‐ Project Development Director
Khun Saengduan Sohsoongnern ‐ Project Management Manager
Khun Rachakorn Surabhakdi ‐ Education Policy and Development Manger
EDF 050813.pdf
Adobe Acrobat Document
106.4 KB