Phuket Has Been Good to Us Foundation

Good Governance & Transparency
Click on stars above to see Ratings detail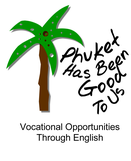 Phuket Has Been Good To Us Foundation

http://www.phukethasbeengoodtous.org/   https://www.facebook.com/phukethasbeengoodtous/
Phuket Has Been Good to Us Foundation was set up after the Tsunami in 2004.  The Foundation provides English classes for free to up to 1200 underprivileged Thai children aged 3 to 18 in three government schools in Phuket. They also run Coconut Club an after school programme for 175 students who live at Kamala School.
The foundation was established in 2005 by Mr. Tom McNamara, an American who lived and worked in Thailand for almost 20 years as a restaurateur in Phuket.   Utilizing the strength of his English, native language with the collaboration and support from headmasters of local schools, he and his associates implemented a long-run project for disadvantaged children to improve their English language capability. 
Phuket Has Been Good To Us Foundation became a registered charity in Thailand in 2006.
Please download GBA's Review on the Foundation as file attached.
Phuket Has Been Good to US Foundation 2021 Review
Phuket HBG Foundation Review 2021 EN.pdf
Adobe Acrobat Document
137.8 KB