Foundation for Rehabilitation and Development of Children and Family (FORDEC)
Click on the stars below to download the Rating information
Good Governance & Transparency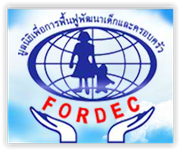 Foundation for Rehabilitation and Development of Children and Family (FORDEC)
https://www.facebook.com/FORDECthailand
Foundation for Rehabilitation and Development of Children and families plays a major role on children's welfare provision. The foundation has initiated various philanthropic projects to strengthen less opportunities communities across the country to enable to provide proper preschool education to their own children by establishing many Day-Care Centers, implement good standard preschool system, nutrition, consecutive follow-up system as well as educational scholarship to the poor students each year. FORDEC's Sponsorship program received a good response from both Thai and foreign supporters to educationally sponsor 1400 children and youths from kindergarten to university level.
There were more 40,000 children, youth and poor families that FORDEC has used its effort through charitable projects to help them since FORDEC was established in February 1998.
Please see our review as file attached. 
Foundation for Rehabilitation and Development of Children and Family Review 2021
FORDEC Review 2021 EN.pdf
Adobe Acrobat Document
168.4 KB