Rotary Bangkok South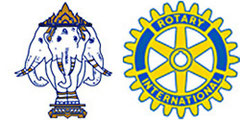 The Rotary Club of Bangkok South

Rotary is a worldwide organization of more than 1.2 million business, professional, and community leaders. Members of Rotary clubs, known as Rotarians, provide humanitarian service, encourage high ethical standards in all vocations, and help build goodwill and peace in the world.

The Rotary Club of Bangkok South membership fluctuates between 100-120 people from around 20 countries, making it one of the largest and most diverse Rotary Clubs in Thailand. They meet every Friday at lunch time.
Each year they raise about Baht 4 million from various fund raising activities, plus other funds from a variety of sponsorship and cooperative programmes. All of this money is channeled directly to projects benefiting the poor and disadvantaged in Thailand.
Each year the Rotary Club of Bangkok South undertakes a number of projects with various institutions who care for the young, the deaf, the blind, the handicapped and the ill.
All monies raised go completely and directly to their charity projects. There are no commissions or operating costs deducted whatsoever.

http://www.rotarybangkoksouth.org
Contact:

Telephone: 02 632 9160
Email: info@rotarybangkoksouth.org

Province: Bangkok
Address: C/- The Crowne Plaza Bangkok Lumpini Park Hotel,
 Lower Ground Floor, 952 Rama IV Road,
 Bangrak, Bangkok 10500
 THAILAND.
Volunteers: Yes
Rotary Bangkok South Projects 2012 and Outgoings
rotary bangkok south CharityProjects11_1
Adobe Acrobat Document
14.2 KB
Books for Thailand Foundation support
Books for Thailand give away new, up-to-date text-books from US publishers to non-profit libraries at secondary schools and universities.
In 2013, they donated over 40,000 volumes, mainly to universities.
Books for Thailand Foundation - SW 6 Dec
Adobe Acrobat Document
350.0 KB